October 16th and 17th, 2017, Datz Real Estate Capital was in Miami for the 3rd Annual Real Estate Family Office and Private Wealth Management Forum presented by IMN.
The gathering attracted over 300 professionals engaged in real estate investment and wealth management activities for family offices worldwide.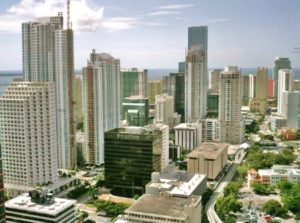 The Forum was held at The W South Beach and covered topics ranging from "Macroeconomic Factors Shaping Real Estate Investments" to "Cross-Border Real Estate Investments" geared toward the Family Office investor.
Chris Datz, President and CEO, was featured on a panel titled "Financing Real Estate Opportunities," which provided an overview of financing options, investment structures, the current interest rate environment, tax strategy and originating opportunities for Family Offices.
Datz added, "Family Offices are a very unique investor class due to their flexibility and range of needs. They can be a lender or a borrower, a sponsor or a limited partner, and a provider or seeker of JV equity, depending on the situation.
Additionally, while most institutions have somewhat defined investment periods, the Family Office can really chart its own course and offer more permanent capital when appropriate."
Erin Lavelle, Managing Director and General Counsel, was featured on a panel titled "Commercial Real Estate," which took a deeper dive into different real estate asset classes and their perceived and actual viability in today's market.
The panel covered topics such as shortages in opportunities for industrial investment, new laws surrounding Airbnb and the resulting pick up in revenues for hotels, and retail strategies in the "Amazon age."
"I thought it was an extremely worthwhile program," added Datz. "We firmly believe that giving our clients exposure to the type of capital provided by Family Offices is critical and timely. We will continue to invest in developing strong relationships with these capital providers and learning their unique investment parameters. It's apparent that this emerging investor group has ample allocation for real estate transactions and would generally prefer to make a direct investment with a particular sponsor, or act as a sponsor themselves, as opposed to investing in a 'blind fund.' We feel that our firm can add value to Family Offices by presenting qualified opportunities for their consideration, and also by offering advisory services when they need debt or equity."
---
Datz Real Estate Capital is a capital advisory firm that offers a comprehensive set of debt and equity solutions for a wide range of real estate transactions. We maintain an extensive network of capital providers and provide a thorough, creative process that produces competitive financing options for our clients, and ensures certainty of execution.
For more information about our capabilities and offerings, visit www.drealcap.com or contact one of our principals: